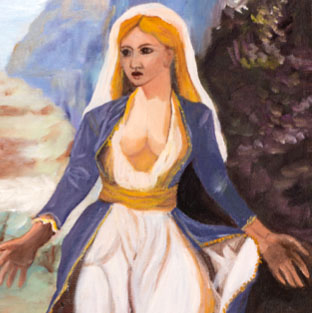 Andromakhe
Many women are mentioned Cilicia mythology. But among them, the most famous is Adromakhe who was sent as a bride to the Court of Troy. In the work identified as Illiad which is the Troy Legend; Cilicia and the Cilicians were described in detail. But among one of the most important of all these people – must have been the beautiful bride Andromakhe who went from Cilicia to Troy to marry Hector who was the first hero of Anatolia. Many works were written for Andromakhe and they became immortal and maintain their originality. Azra Erhat describes like this:
Andromakhe was the beautiful daughter of Cilicia King Eiton. They were content for being a relative of an honorable family like Dardanos. They prepared a wealthy dowry for their beloved daughter when they sent her as a bride to the house of Priamos. The groom Hector was a fair and valiant person.
Andromakhe and Hector were a compatible couple who were created for one another. These two persons who were radiating happiness around themselves – were getting affection and respect in the court. In Priamos's court, they were having a regular life together with his nineteen sons born from Hekabe and around thirty children from his other wives, brides and grooms. Our hero Hector was the eldest son of Priamos, who was the most valiant; the defender and master of the city; and who was loved so much by the city people. His happy life with his sweet woman Andromakhe was even enriched when their child was born. They named their son ""Astyanks" which means: "The Master of the City."
Azra Erhat decribes me as follows:
"Andromakhe went from Cilicia which is the forest land to Troy as a bride."
I am the wife of Hector who was the first hero of Anatolia.
The woman of the pains, the unlucky queen. Now, I have become a star stone in the sky.