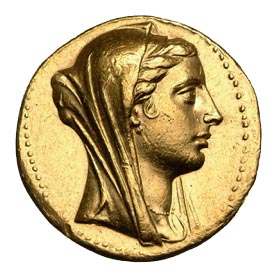 Berenike
In 1975, in Gokada near Tisan, the land-owner Ahmet Selcuk finds a ring in his field. He hands in the ring he found to Silifke Museum. The bronze ring in the dimension of 3.2 cm, over which there is a relief inherent to Berenike I. who was the wife of Ptolemaios I. ; who is now in Silifke Museum – is an indication for the Egyptian culture in the peninsula. In 285 BC, Ptolemaios I. chose Filedelfos Ptolemaios II. as the crown prince, who was the young son of him from Berenike. Ptolemaios and Berenike Berenike means "who brings the victory". Berenike – the woman for whom a city established is named
I was the wife of Ptolemaios who was among the generals of Alexander the Great.
I gave my name to the port he established.
My name is frequently heard in the ancient historical geography books.
This port was used until Middle Ages. In 1975, my ring was found in Gokada.