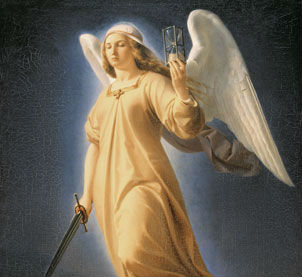 Goddess Nemesis
In Greek Mythology, Nemesis is the goddess of holy revenge. According to Hesiodos, Nemesis is one of the childen of the Nyks who were born without a father – who takes the revenge from people for the sins they committed and she punishes the injustices. The goddess of luck, success, happiness and wealth Tykhe ans the goddess of revenge Nemesis appear to be working in contrary to one another while one of them is rewarding, the other is punishing; but in fact, these two goddesses are complemetary and they balance the other. So they are depicted together in the vase pictures. The symbols of Nemesis are sword, scales, whip, bridle, wheel, tally, apple branch and ash tree branch. The Nemesis descriptions have become allegoric with various symbols which are enriched; with a serious, and cruel content. Although the Romans kept the name of the goddess same, they sometimes called her Invidia (Jealousy) or Rivalitas (Competition). Nemesis which means "distributing rights, sharing" scales humans' happinesses and unhappinesses and makes those people remember who are overly happy in this world that there is a limit of happiness in this mortal life, in a painful way. It is possible that Nemesis cult is from Smyrna (Izmir) origin. There was a double Nemesis belief in Izmir. This doubleness might emphasize one good and one bad side of the goddess or it might stem from the fact that in the city which was re-established by Alexander the Great, the old and the new goddess cults mixed one another.
We were together with other goddesses in this pretty port city.
Now, I am alone and need your affection.