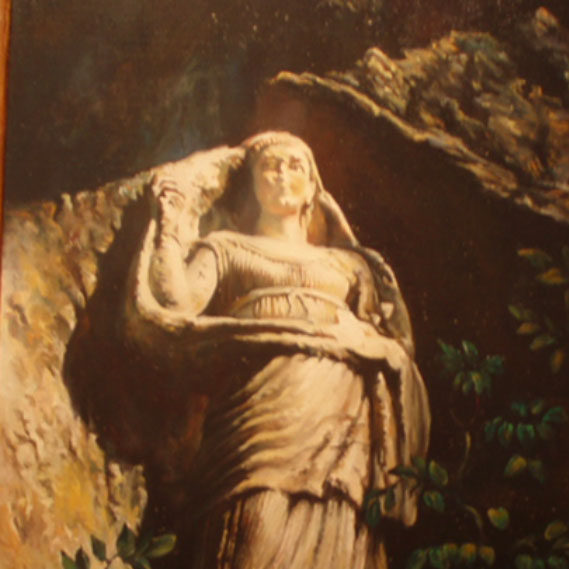 Queen Aba
The father of Queen Aba is Ksenophanes who was one of the most strong persons of Olba Priest Kingdom. He conqueers the Olba Kingdom with many people in disguise of guards. He becomes the ruler of the region and the priest kingdom. After the Romans' annihilation of the rioting local people, whom they named pirates; in Olba (Uzuncaburc), the priests from the clan of Teukrit were very dominant in a large region. The knowledge source regarding Aba and Olba is the Strabon of Amasya: In the mountainous country upwards Kyinda and Soli; there was Olba city, in which the Zeus Temple was founded by the Aias, the son of Teukros. The pontiff of this Temple became the king of Mountainous Cilicia. Later on, the country was captured by numerous tyrants and the pirates were made organised. After innahilation of these, this country was named "Teukros Country" and the many of the priests were called "Teukros" or "Aias". But Ksenophanes who was one of the tyrants came to the family, with his daughter Aba's marriage. After the reign of Ceasar; a Roman general who was commissioned after Pompeius who was commissioned to solve the problem of the pirates in the Cilicia; the Roman Consul Antonius was aiming at sharing the wealth of the region with Ceasar's favourite the Egyptian Queen Cleopatra. He was of the idea that he could transfer the wealth of primarily Tarsus, then the products of Mountainous Cilicia – to the Roman navy. "The Cilicia" consul and the famous Roman commander Markus Antonius and The Egyptian Queen Cleopatra donated these places to Queen Aba, ex gratia – due to their kind behaviours and being respectful. They formed an autonomous administration under the auspices of the Rome. Olba Queen Aba, made an agreement for her country, with Egyptian Queen Cleopatra who was another important woman of the era. Thus, the two women under the rule of Rome reached an agreement for Rome.
Once, I was the most important woman of the Toros mountains.
Even Cleopatra and Antonyus visited to honour me.
The historians wrote my mourning.
Since 2100 years, I have been watching you.
I am Kibele, the Queen but primarily a mother with pains.