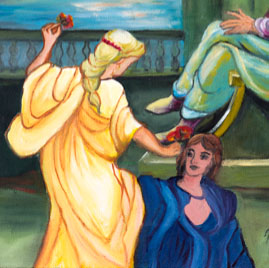 Stratoni
According to what Plutarkhos mentions the city of Stratonike got its name from a young and beautiful woman and her enthusiastic love; according to a mythologic story. Selefkos Nikator was made married with Apameia who was the daughter of the Buhara Dynasty, by Alexander the Great, in 325. However, when Apameia died, her husband Selefkos Nikator seeked another spouse. There lived a girl in Cilicia province who was famous for her beauty, named Stratonike. Selefkos Nikator who saw Stratonike wanted to get married to her. But he did not know, at that time that his daughter was in full love with Antiochos. Stratonike had to get married to the king. Just after the wedding, Antiochos got ill and rested in bed. No doctor could find a remedy for his sickness. The Egyptian doctor Herostratos who was a famous doctor passing by the city, at that time, was asked to the court to examine the patient. One day, when Stratonike entered the room of the patient; the face of the Antiochos got blushed and his heart started to beat faster. The doctor upon seeing this and anticipating something, learnt the truth by questioning Antiochos as soon as Stratonike left the room. The doctor Herestratos went the prescence of Selefkos one day. A dialogue between the king and the doctor was rumored: "My majesty, I understood your son's illness. Your son fell in love with my wife. So he is in beds now." "Would you refrain your wife from my beloved son? You should heal my son." "My King, You should consider yourself in my situation. What would you do, if you were me?" "If my son had wanted my wife, I'd have given him her. Because Antiokhos is my everything." And the doctor was trying to find such a moment. He gives him the response: "In that case, I must tell you the truth. Your son is in love with the Queen Stratonike. They had a great love together before you married her." King said, in a very perplexed manner: "Then, let them get married." and he divorced Stratonike and made his son and Stratonike married. Soon afterwards he left the throne to his son.
Stratoni: Ankakya was my first love. But I had to marry his father Silifke. Antakya was so ill, due to my love that, he stayed in beds.
He was cured with the prescription of the Egyptian doctor. I was his medication…
There are two cities in Anatolia for the two loves of her.