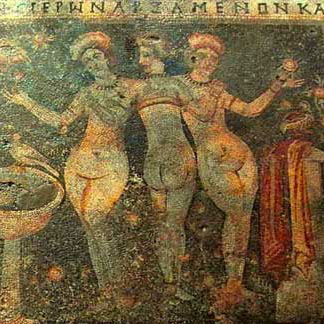 Three beautiful women
There is a small Mosaic Museum in Narlikuyu, a few metres within the sea. The mosaic remnants of a structure having a great art value which are dated AD IV centrury, are preserved there. In the mosaic floor depicting the "kharits"; a mythologic story was told by using natural colourful stones. From the Poimenos Bathhouse which was restructured in the initial eras of the Christianity; only those floor mosaics were able to survive today. The frame of the mosaic floor was enriched with geometrical shapes. In the bathroom bedecked with the local bird and flower shapes with white, black and golden coloured stones; the girls of the Heaven are dancing. Some of the people living there call this bathouse remnant as Cleopatra Bathhouse; just as the remnants in Tarsus are called as Cleopatra Door; through an anology. Poimenos who was mentioned on the mosaic inscription was the just and honourable administrator of Prince Islands in Marmara Sea, which is located in today's Istanbul and who had good relations with Roman emperor Archadius and Honurius. The translation of the inscription is as follows: "O, the guest friend! If you want to know who re-invented – the Beautiful Bath Water – which was thought to be lost; know that it is Poimenos who establishes friendship with the Empires, who get on well with them and who administers the Holy Islands." The girls depicted in the mosaics on the floors of Poimenos Bathhouse which has been turned into a museum in Narlikuyu are called as "Kharits" in Classical Mythology and among the people they are defined as "Three Beautiful Girls." They are the most famous among the thousand daughters of main god Zeus. Their mother is Eurynome. The Kharits: Aglia, Talia and Euprisina - reflect brightness, beauty, attractiveness, pleasantness and cheer. These three young maidens which we frequently meet in art works in the paintings, mosaics or sculptures – are always depicted together. Fairy Maidens, "Kharits…" Here is their home. They live in the mosaics, in Narlikuyu, in one of the most important quays of the world, which you all know.
A chorus of three maidens chant:
We are three daughters of Zeus, the three beuatiful girls. We are the inspiration fairies of the art.
Then they call one by one:
I am Agliye… I am the glitter and brightness of the art.
I am Talya… I am the creator of cheer and laughter.
I am Oprosina… I am the inspiration of the art, the cheer of the heart; the beauty and enthusiasm in the soul.